IMPORTANT NOTE:
SuperdAmn is
not an official part of deviantART!
What does this mean?
If you have a problem with SuperdAmn do NOT message the Help Desk as it's not supported by $taff!
Volunteer moderators in #help may not be able to answer your questions about it.
Site updates may conflict with your SuperdAmn installation.
What can I do with SuperdAmn?
Lots of stuff! I'm pulling key highlights and screenshots from the
manual
so if you want the full scoop, check that out instead. I'm going off the features I use most, if there's something you think should be in this journal please add it to the comments.

And remember,
more stuff is in the manual!
When you install SuperdAmn and open up any
chat
room, you'll see this wrench in the upper right hand side. If you don't see it, it means SuperdAmn either wasn't installed properly or you need to refresh the page.

When you click on the wrench (which has a tooltip that says 'SuperdAmn Preferences') you'll get this popup window: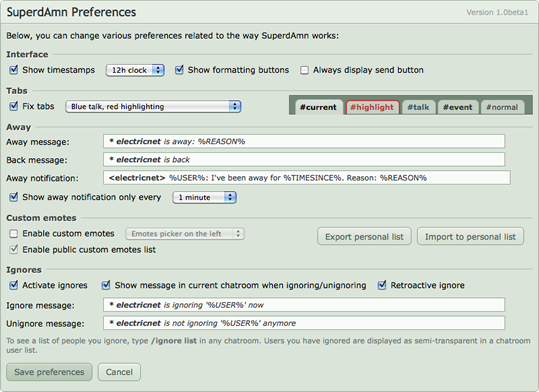 You can see a bunch of nifty options here, including:
Away notifications. Enter /setaway to activate away mode and /setback to return. This is disabled in #devart but it's great for unofficial rooms.

Custom emotes. NOTE: this is disabled when SuperdAmn is installed. If you want to use them, make sure you go to the wrench and enable custom emotes! I would recommend leaving the public list turned on as well.
Ignores. Best used sparingly.
Especially for chatroom administrators, there are some other useful features:
Easy topic/title editing. The upper right hand side has a pencil, similar to the one on your userpage. (You can only save changes if you have editing privileges, of course.)
FAQ search. You can use the same keywords you would use on the help page. Just type /faqsearch and then whatever keywords you're looking for.
You can join multiple chatrooms simultaneously by typing /join [chatroom name] [chatroomname] ...etc.
Formatting buttons, which are great if you want to quickly bold/italicize or insert an image or thumbnail: