At this point, you've all had awesomesauce articles on
word choice
,
varying sentences
,
dialect
, and
dialogue
. Which is great, because it cuts my job down to five minutes of nattering on about how you bring all these elements together to create that elusive thing people always go on about: VOICE.
Voice is the personality of the book.
You know that thing about avoiding cliché except every single plotline ever has been done and has the TVTropes article to prove it and OH GODS WHY?!?!
Voice solves 97% of that. It lends originality to your story by tossing a filter over the whole thing. 'The Shining' needed that kid-voice so readers could stare in horror over his shoulder, understanding things like the dark cloud of suicide in his father's head without having his reaction ruin half a page of ominous build. 'Dirk Gently's Holistic Detective Agency' wouldn't be the same book without its constant, gentle ribbing of everyone: Adams wasn't trying to give us a new Sherlock Holmes, even though the premise lends itself to that comparison.
I Googled the crap out of 'voice'—there's surprisingly little—and found
this well-written blog
. We totally agree, so that's a bullet dodged.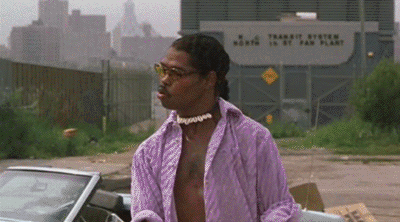 Voice = personality...?
In first person, "voice = personality" is easy to conceptualize. It's like, okay, I have this dude who thinks he's amazing, but he's actually
Al Yankovic in 'White and Nerdy.'
So he's going to talk the talk/walk the walk
without ever getting it right
. As far as his narration goes, you just let him do his thing. It's for the audience to recognize that "da bomb" is, like, so 1996.
What about third person?
Generally speaking, narrators have a straightforward agenda: they want the audience to sympathize with the protagonist. There are exceptions, like Cersei Lannister ('A Song of Ice and Fire' by George R. R. Martin). If GRRM had wanted to make her sympathetic, he could've shown her fearing for her children instead of plotting the destruction of their enemies.
The third-person narrator controls how readers feel about your characters, and that in turn controls its personality, even when it's not a person (aka you the author).
AKA You The Author: there is this elusive beast called "native voice," which reflects how you talk and think. How do you figure out what you sound like on paper? I found conversational things—blog entries and forum posts—better than trying to write stories. Some sites say it's partly/entirely innate, but I'm convinced it can be learned through practice.

An example: if you've read Terry Pratchett and Neil Gaiman, you can make a decent guess at who wrote which part in 'Good Omens,' though the book reads evenly for the most part.

Something to consider for your "writing journey."
Let's look at the Romantics for half a second. William Makepeace Thackeray, Edgar Allan Poe: regardless of sentence complexity and esoteric word usage, they're more readable than many modern textbooks. Why? Textbooks are allegedly objective—no opinions, no personality. No filter on the world.
How do I not be a textbook?
Two words: intention and perspective.
Yeah, okay, that's not super helpful. Even if I said that intention is the motivation of the narrator—getting back to that 'agenda' mentioned above—and that perspective is the influence of nature/nurture on how a person sees the world, that doesn't tell you how to execute it. So:
Style/word choice.
Information.
Bias.
Style/word choice are what you really need to make things clear to the reader, so they are in one sense more important than the other two, but I'm not going to rehash those here. Let's talk about information and bias.
Information is what you tell your readers, and bias is how you tell it.
If I'm pro-abortion, I'm going to describe a Planned Parenthood clinic very differently from the protesters haranguing it. (See what I did there? I could have just said "outside.") If I want to tell you about a young woman going in, maybe I'll point out that she was abused by her mother and had no father figure to teach her how to be careful around men. A protester might point out that her sex ed didn't cover abstinence and that no one counselled her on how precious human life is. Also, one of us would say 'fetus', and the other would say 'unborn child'...guess who

Bias determines what information we consider important and, by extension, what we're willing to tell others.
Ultimately, voice is how you control what people think of your narrative.
Who is narrating your story?
What biases do they have?
What are some writing choices you've made to show this?
How do you make readers like/dislike your characters?